Underlayment Acoustic Ratings — Why do they matter?
What are Underlayment Acoustic Ratings?
Let's face it: either you have noisy neighbors, or you are the noisy neighbor. Either way, someone is tired of hearing all that banging from the floor above them. If you live in a multifamily building, you've probably been bothered by the sounds of walking or blasting music from your neighbors. Maybe you're worried that you could be the one disturbing your neighbors below. Before you turn down your speakers, consider how your flooring system affects the way that sound travels from one floor to the next.
High performance flooring underlayments have acoustic properties that limit the transfer of sound from one floor to another. A flooring system's ability to block noise can be tested and defined by acoustic ratings. These ratings can be used to compare the acoustic performance of a flooring system with one type of underlayment to a flooring system with another type of underlayment. There are three common types of acoustic ratings that are tested on flooring systems: IIC, STC, and ΔIIC.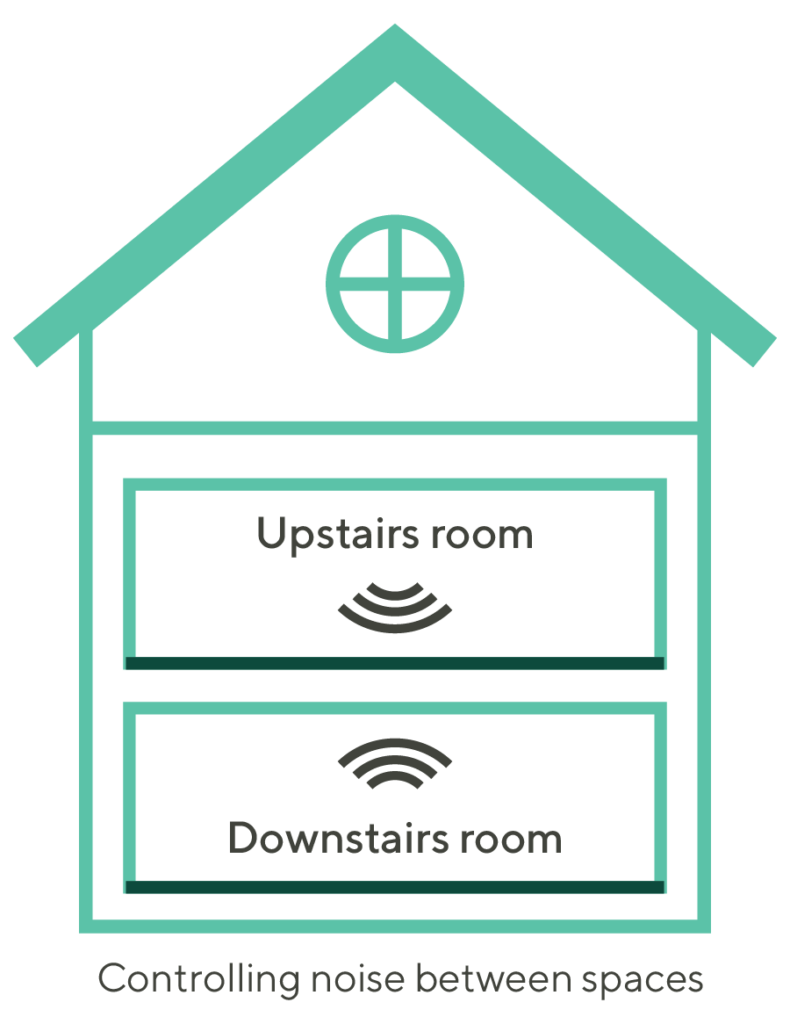 Impact Insulation Class (IIC) measures a floor/celling assembly's resistance to the transmission of impact sound, such as foot-fall or a chair dragging on the floor. Flooring systems with premium acoustic underlayment usually have an IIC rating above 70.
Sound Transmission Class (STC) rates a partition's or material's ability to block airborne sound, such as people having a conversation, music or television sound. You can expect a flooring system with a premium acoustic underlayment to achieve an STC rating in the high 60s.
ΔIIC measures the effectiveness of the floor coverings in reducing impact sound transmission when compared to standard concrete floors. Flooring systems with premium acoustic underlayments usually achieve a ΔIIC rating above 24.
How do Acoustic Ratings Affect your Home Flooring?
The higher the acoustic rating, the better the flooring system is at resisting sound transfer from one floor to the next. These scores are achieved through independent lab tests that simulate sound traveling through a building. It is important to note that the entire flooring system is being tested, not just the underlayment. Therefore, the rating achieved in a test applies to the entire flooring system. However, changing just one element of the flooring assembly can significantly alter the results of the test.
You might wonder, "does an acoustic underlayment really make a difference?" Well, many HOAs, architects and builders claim that an acoustic underlayment makes a significant impact on the way sound travels through a building. In fact, homeowners associations (HOAs) often set requirements for a flooring system's acoustic rating. They often set high standards for noise reduction to limit the number of noise complaints from tenants. The standards for noise reduction that HOAs set are often achieved with the help of a high performance underlayment.
You don't have to live in multifamily housing to experience the performance of a premium acoustic underlayment. DIY homeowners can use acoustic underlayments to limit sound from traveling throughout their homes. Installing an acoustic underlayment in your busiest rooms can help keep noise out of the places you relax. This way, the kids are free to play upstairs while you enjoy the peace and quiet on the first floor.
It can be hard to find an underlayment that meets the stringent acoustic requirements set by a homeowners association. It takes a premium underlayment with exceptional acoustic properties to achieve the desired acoustic ratings. FloorMuffler's line of acoustic underlayments contain products with some of the highest acoustic ratings on the market. Take a look at FloorMuffler's list of acoustic underlayments and find the one that is best for your flooring.