Choosing The Best Underlayment For Laminate Flooring
When picking an underlayment product for your flooring, there are a few key factors to keep in mind. The subfloor and type of floor covering you're working with will determine what type of underlayment is best for your application.
With some helpful tips and guidance, you can enjoy easier installation and flooring that looks great by selecting the right underlayment. Working with laminate requires some special attention to get the best results possible.
We're breaking down everything to consider before choosing an underlayment for your laminate flooring.
Laminate Flooring Subfloor Options
Concrete Subfloor
A concrete subfloor provides a strong surface for installing underlayment and laminate. Its advantages include durability and affordability. Concrete is also not susceptible to wood-eating insects or pests.
The cons of working with this material for subflooring include:
Moisture: Concrete can absorb moisture in a humid or damp environment and wreak havoc on laminate flooring.
Unevenness: Bumps or uneven areas of the concrete can complicate the installation process and lead to damaged flooring planks.
Hardness: The cold, hard nature of concrete can make for an uncomfortable walking surface without the proper use of underlayment.
To prep a concrete subfloor for laminate flooring installation, test the concrete for moisture and address any uneven or damaged areas. You will also want to choose an underlayment that features a moisture barrier and provides a soft, comfortable walking surface.
Plywood and OSB Subfloors
No matter your subfloor material, when evaluating your subfloor for a laminate flooring project, the following factors should be considered:
Flatness: Before installing underlayment, look closely at the subfloor. Do you see sloping, waves, bumps, or cracks? If your subfloor is damaged or otherwise unstable, you'll need to address those issues prior to installation.
Dirt and debris: The subfloor surface should be clean and free of any pieces of debris.
Moisture: If excessive moisture is present, do not install the floor covering. Address the source of the moisture before continuing the installation.
You want to ensure these considerations are resolved before laying down the underlayment
What Do You Put Under Laminate Flooring?
Underlayment refers to a material you install on top of the subfloor and underneath the exposed floor covering. You'll need to choose a type of underlayment that works well with your flooring and provides the performance characteristics that you need. Certain underlayment materials are better suited for applications involving laminate flooring, including:
Cross-linked closed-cell polypropylene foam (XLPP Foam): XLPP is the ideal option for laminate flooring for many reasons. The material provides impressive compression characteristics, it is mold and mildew-resistant, and it provides superior acoustic performance. The cross-linking of the molecules makes it more dimensionally stable, and the closed-cell construction provides a powerful moisture barrier.
Polyethylene foam: Polyethylene (PE) foam is one of the most common underlayment materials for laminate flooring. PE Foam underlayments generally do not provide top-tier acoustic performance and moisture protection like an XLPP Foam underlayment, but PE Foam is often a more affordable alternative.
XPS foam: XPS foam is a good option for laminate flooring. Its extruded polystyrene (XPS) boards compress as you walk across them, reducing impact and providing a cushioned feel. XPS foam underlayments are generally sold as fanfold products, meaning they can easily be unfolded and installed.
Recycled rubber: Most recycled rubber underlayments provide solid acoustic ratings and are mold and mildew-resistant. You may need to install an additional film to protect your floor from moisture, as many recycled rubber underlayments are not moisture barriers. Rubber is also one of the most environmentally friendly materials in underlayments for laminate flooring.
Recycled fibers: Compressed recycled fibers can also work well under laminate flooring. The material effectively mitigates sounds, and its R-values keep the floors from getting too cold.
Kraft paper asphalt composite: This material is a moisture retarder, which makes it ideal for applications where moisture protection is important. Kraft paper is a favorite among installers because it makes it easier to slide the laminate flooring planks into place.
What Underlayment to Use for Laminate Flooring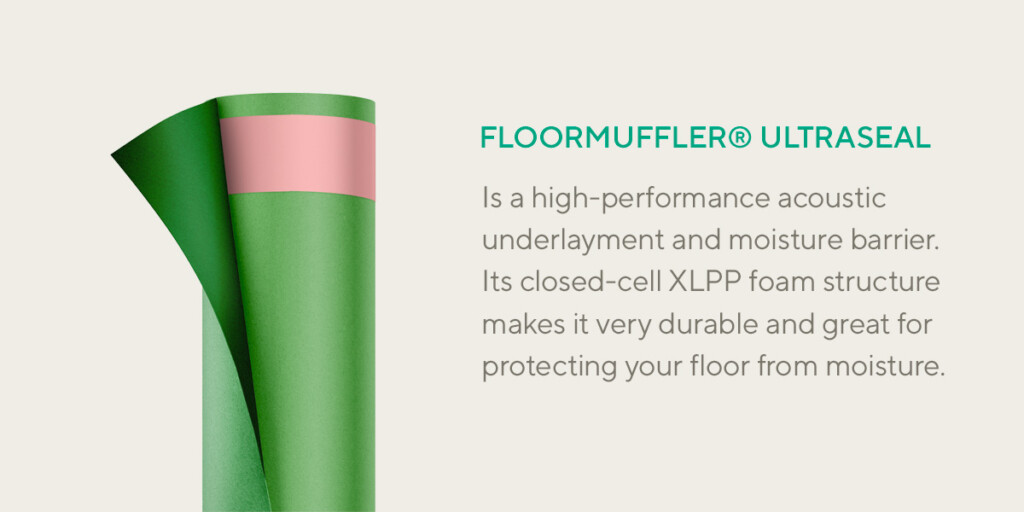 FloorMuffler® offers a comprehensive selection of underlayment products well-suited for installation under laminate flooring. Explore the following types of underlayment products and their key characteristics:
FloorMuffler® UltraSeal: FloorMuffler® UltraSeal is a high-performance underlayment providing industry-leading acoustic properties and superior moisture protection. Its closed-cell XLPP foam structure makes it very durable and great for protecting your floor from moisture. FloorMuffler® UltraSeal can be floated, nailed down, or glued down.
QuietCure™: QuietCure™ is FloorMuffler®'s professional-grade underlayment for laminate flooring installations. This underlayment provides great moisture protection and acoustic performance without the premium price point.
ComboFoam®: As a polyethylene foam moisture barrier, ComboFoam® is part of the value collection from FloorMuffler® and provides good acoustic performance for a great price.
FloorMuffler has a collection of underlayments for laminate flooring. Discover the entire line of products.
How to Choose an Underlayment for Laminate Flooring
When deciding on the right underlayment for laminate floors, consider a few key factors. Laminate is known for having a hollow sound when people walk on it. Homeowners often seek creative methods to limit the amount of sound that their laminate flooring gives off. One of the most effective ways of limiting the sound from traveling from one space to another is to use an underlayment with top-tier acoustic properties.
Another factor to consider when selecting an underlayment is the presence of moisture. A flooring system should never be installed when excessive moisture is present, but if there is a possibility that moisture can become an issue, you want to choose an underlayment that blocks as much moisture as possible.
You should also consider the underlayment's material, as less dense underlayments will allow for a softer walking surface. However, choosing an underlayment with too much compression may cause the flooring planks to flex and become damaged.
Benefits of Underlayment for Laminate Flooring
The following are some of the key benefits of installing underlayment underneath laminate flooring:
Increased acoustic performance: Premium underlayments have acoustic properties. When shopping for underlayment for laminate flooring, explore the impact insulation class (IIC), sound transmission class (STC), and delta impact insulation class of the underlayment. The greater the number, the better the underlayment is at reducing sound transfer.
Added moisture barrier: Depending on your subfloor, you may need a moisture barrier to protect your laminate flooring and keep your space free from mold and mildew growth.
Protection against subfloor imperfections: The underlayment can help you keep your floors level and smooth by masking minor imperfections in the subfloor.
Thermal properties: You can increase the R-value of your flooring system with proper underlayment materials.
Contact FloorMuffler® to Learn More About Our Underlayment Products
If you're looking for underlayment for your home or business, turn to FloorMuffler®. We offer a wide selection of underlayment products ideal for use under laminate, engineered and hardwood flooring.
Our professionals can help you find the best underlayment for laminate floors, and you'll enjoy many benefits when you choose to install our high-performing products. We can help you enhance the acoustic and thermal properties of your flooring.
Are you ready to get started? Contact FloorMuffler® to learn more about our underlayment products today!