What is an underlayment?
Updated 9/22/2023
Your floor is more than the layer you see — different components create a flooring system to help protect the covering on top. Underlayments provide support for the locking system of your flooring and can help address minor imperfections in your subfloor. High-performance underlayments from FloorMuffler® help improve your flooring system's acoustical performance, provide additional thermal properties, and protect your flooring from moisture.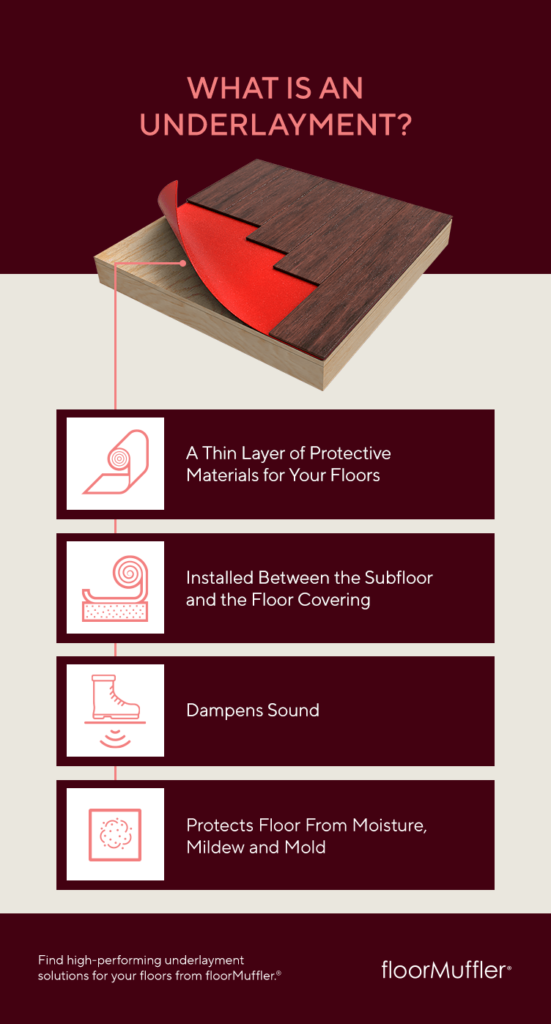 What Does Underlayment Mean?
An underlayment is a layer installed between the subfloor and the floor covering. Different underlayments offer various benefits. Moisture barrier underlayment protects your floor covering from moisture damage, and it is often mold- and mildew-resistant. Underlayments can reduce the impact of minor subfloor imperfections — like small cracks or minor leveling issues — to ensure your floor covering is installed on an even surface.
Some underlayments enhance acoustic or thermal properties to reduce noise and make your space more energy-efficient. The materials offer a bit of flex under the floor which reduces the impact as you step. A premium FloorMuffler® underlayment offers acoustic performance, moisture protection, thermal properties, and stability for the floor covering.
Using an underlayment will support your floor covering and help extend its life span. Some floor covering manufacturers may require you to install an underlayment to maintain your warranty.
What is Underlayment Made Out Of?
Underlayment comes in different types of materials such as:
XLPP foam: Cross-linked polypropylene (XLPP) underlayments can offer premium noise reduction, moisture protection, and thermal insulation. FloorMuffler's XLPP Foam underlayments exceed industry standards for acoustic performance and moisture protection. FloorMuffler® UltraSeal, FloorMuffler® Encore, FloorMuffler® LVT, and QuietCure™ are all made from XLPP foam. The closed-cell construction of the foam limits the amount of moisture that can pass through the underlayment. Cross-linking the molecules of the foam gives the underlayment dimensional stability and exceptional durability.
PE foam: A polyethylene (PE) foam underlayment, like ComboFoam®, is lightweight and easy to install. PE foam underlayment is often a less expensive value-grade product. It's suitable for use with laminate, engineered hardwood, and solid hardwood floors. Use ComboFoam® in nail-down or floating installations to create a comfortable walking surface.
Natural or synthetic fibers: Underlayments made with fibers are generally dense, helping them lie flat during installation and providing insulating and noise-reduction qualities. Natura™ and Natura™ Elite feature recycled fibers for an exceptionally eco-friendly underlayment options. An attached PE film creates an added moisture barrier to help protect your floor covering.
XPS foam: Extruded polystyrene (XPS) helps create a comfortable walking surface while improving your flooring system's R-value, a measure of insulating quality. Underlayments made of XPS foam often come in fanfold packaging, which allows the installer to simply unfold the underlayment onto the subfloor. For a reliable XPS underlayment option, choose FloorMat™ FanFold, which features an attached ALU-foil moisture barrier.
Rubber: Rubber underlayments, which are often made from recycled tire crumb, are environmentally friendly options that offer premium acoustic properties to reduce impact noise. FloorMuffler® Flex is a high-performance underlayment made of recycled rubber. Rubber underlayments often are not moisture barriers.
Cork: Cork is an eco-friendly material that can provide natural mold resistance and absorb sound. Since cork is soft, it is more vulnerable to damage — be careful during installation not to chip it, or you could compromise your underlayment system.
IXPE foam: Irradiated cross-linked polyethylene (IXPE) foam underlayments are often water resistant, thanks to their closed-cell design. IXPE foam is commonly used as a pre-attached underlayment, meaning that it is fixed to the bottom of a flooring plank. Pre-attached underlayments generally do not provide the best acoustic performance and moisture protection. When installing a floor covering with a pre-attached IXPE backing, you can improve the acoustic performance of the installation with a premium underlayment, such as FloorMuffler Encore, which is designed for flooring with a pre-attached pad. 
What is The Purpose of Underlayment?
Depending on the type of material, underlayments will bring different performance characteristics to your flooring installation. Some materials are better at blocking moisture and sound than other materials. Our XLPP foam will act as a water vapor barrier due to its physical and molecular structure.
It is important to mention that underlayments should not be used as a solution for major subfloor issues, such as uneven floors, moisture levels above code standards, and severe cracks. If you have a subfloor problem, address it before installing your underlayment or flooring. 
Flooring Structure: Where Does Underlayment Go?
Understanding the layers of a flooring structure can help you visualize where an underlayment goes in this installation and what it's used for:
Flooring joists: For installations involving a plywood subfloor, joists are the first layer of your flooring structure. They're horizontal framing pieces that run between beams to transfer the load of the floor, the walls, and anything in the room to vertical framing pieces. Joists help limit shifting in the subfloor and can keep the subfloor level. 
Subfloor: Above the joists is the subfloor, often made of concrete, plywood or oriented strand board (OSB). The subfloor creates the foundation for your underlayment and floor covering, so it should be level and free of cracks or damage. Subfloors are structural, offering rigidity and strength for the materials above them.
Flooring underlayment: Underlayments are installed above the subfloor and under your floor covering. Underlayments can be used to address minor subfloor imperfections, improve the acoustic performance of the flooring system, and provide a moisture barrier that protects the floor covering above. 
Floor Covering: Your flooring, specifically called the floor covering, is the top layer that you see in your flooring structure. Common examples include luxury vinyl, laminate, hardwood, and tile.
How to Choose the Right Underlayment
Low-cost materials normally will only help to reduce the impact of subfloor imperfections. However, this protection is minimal and for a short period of time, as the product could lose its thickness after being compressed. High-quality materials tend to be more of an investment, but the benefits outweigh the costs.
Remember, not all flooring systems are the same — it is very important to choose the right underlayment depending on the floor covering you are installing, the installation method, site conditions, and the performance characteristics that are important for you.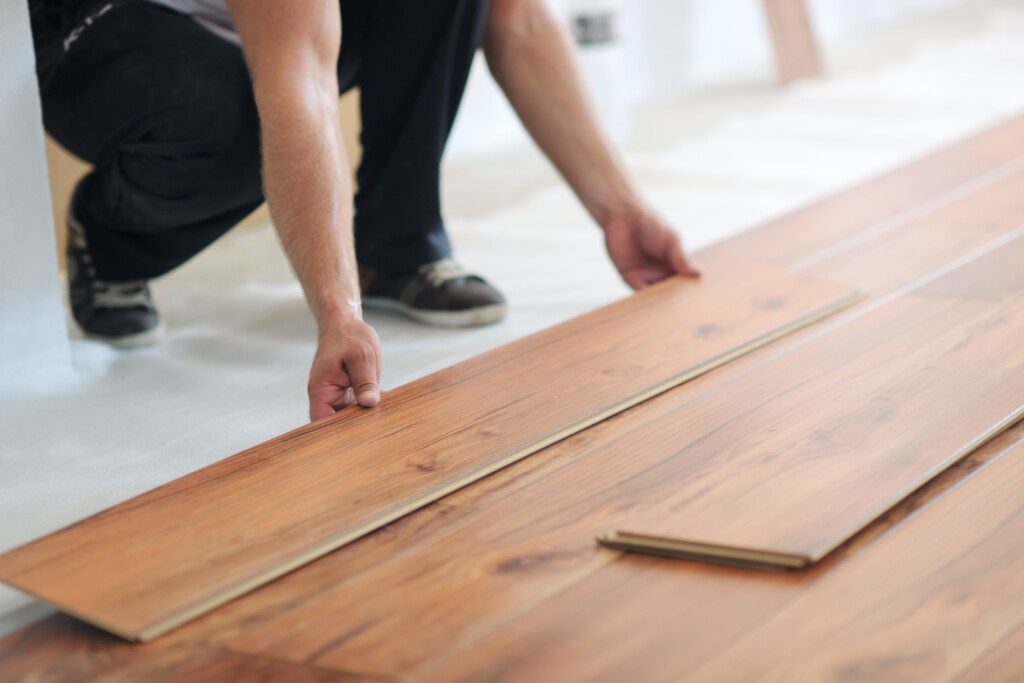 Contact FloorMuffler® to Learn More About Our Underlayment Options
If you need further information about underlayments, we're here to help. Our underlayments are suitable for residential and commercial applications. Gain industry-leading acoustic performance, enhance your floor's comfort and efficiency, and protect your floors from moisture with FloorMuffler®. Many of our underlayments include UltraSeal, our patented lip and tape system that allows for easy installation, meaning that you don't need any specialized tools to install the underlayment.
Contact us for more information about our underlayments.